Retro-Sicht des Sängers unter Freigabe des Bassisten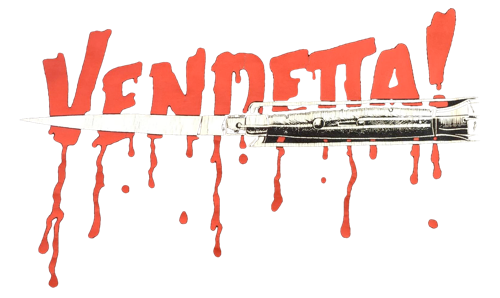 "Vendetta! lernten sich Ende 1990 beim Reinschmeissen der Leergutflaschen auf dem Kanzleiareal kennen. Nach zwei Stunden harter Arbeit kam man ins Gespräch. Kurze Zeit später – beim Biertrinken im Volkshaus – stiess Bergi mit 2 Säcken Leergut dazu, auf der Suche nach einem Container. Zum Entsorgen kam er dann nicht mehr, dafür wurde er Sänger bei Vendetta!"
Dies ist die offizielle Version vom Mai 1994, die Wahrheit ist natürlich ganz anders… Ich lernte Chrigi und Dani Vieli irgendwann 1980 kennen. Dani machte an meinem allersten Konzert mit Mannschaft die Fotos, dies war am 25.10.80 in der Roten Fabrik. (Siehe Break out Nr. 1!!) Persönlich lernte ich die Zwillinge im Zug nach Wolfenschiessen kennen, am 17.01.1981. Sie sassen mir vis-a-vis und assen gemeinsam Chips aus einer Tüte, dieses Bild habe ich nie vergessen! Chrigi war der Gitarrist von Asphalt und zusammen oder mindestens nacheinander, standen wir auf der Bühne am 28.03.81, Restaurant Palme, Zürich. Es folgte noch das Abschiedskonzert vom Remo Quadri in der Aktionshalle Rote Fabrik am 04.10.81.
Der Marino stach auf mich ein am 16.09.89, als Tätowierer! Vorher kannte ich ihn als Schlagzeuger von Ladyshave. Als Züri-Punk hatte ich Alain noch nicht kennen gelernt.
Mein Zusammenprall mit Vendetta! fand am Billy Idol Konzert vom 09.12.90 im Hallen Stadion Zürich statt. Ich war von der Amerikanisierung, die Billy da auf der Bühne abzog, absolut enttäuscht. infolge seines Motorradunfalls humpelte er mit Krücken auf die Bühne, und beim «Rebel Yell» schmiss er die Stöcke weg und war erleuchtet! Kommt im Lande der vielen Dummköpfe sicher immer gut an. «Also diesen Quatsch kann ich auch» war meine Äusserung. «Gut, dann sehen wir uns am Donnerstagabend um 19 Uhr am Escherwyss!» Dies war Chrigi Vieli, der hinter mir stand!  Er sei jetzt Gitarrist bei Vendetta! und sie suchten einen Sänger. Der erste Versuch war der Wädi vom Analph, ich hatte Glück, dass er absagte, denn ich war sofort dabei! Chrigi, Marino und zum ersten Mal Alain, begeisterten mich. Los ging's! Chrigi war vorher bei Putsch, Hungry for what, Chin Chin, Mickey und die Mäuse, Axmenjazz und wie erwähnt Asphalt. Marino bei Burning Pueblos und Ladyshave, Alain kam von Axemenjazz und Gun Crazy, bei mir standen Mannschaft und Gssindel auf dem Zähler.
27.04.91 war schon die Premiere! Bäckerstrasse 51, mit 9 Lieder auf die Bühne! Da nach 25 Min dies abgespielt war, wiederholten wir das Ganze! Dani Vieli wurde als Fotograph engagiert, leider war er viel zu nervös, um Fotos zu schiessen… Wir haben von der Premiere kein einziges Foto! Hihi! Vielleicht auch besser so!! Was an diesem Tag noch der Fall war; wir erfuhren, dass am 23.04.91 ein Vorbild von Chrigi gestorben ist: Johnny Thunders. Da wir wussten, was für eine Wirkung diese Nachricht auf Chrigi haben wird, sagten wir es ihm erst nach dem Konzert… Es folgten Konzerte im Profitreff (12.07.91, es war tierisch heiss…), Konradstrasse 17 (26.07.91, die Bühne brach unter uns zusammen…!) und Züri Bar (06.10.91). Beim ersten Konzert im Ausland spielten wir das erste Mal als Vorband im Kiff Aarau, von «Stone Cold and Crazy» aus Berlin, am 12.10.91. Das Kiff schickte uns nachher ein Fax, worin uns mitgeteilt wurde, dass schon manche Band im Kiff gespielt hätte, aber noch KEINE so viel gesoffen habe! Ein jeder wie er kann!!
22.11.91 im Pickwick Pub Lenzburg hatten wir nach unserem Auftritt eine kleine Rauferei mit dem Publikum, kann vorkommen. Gut hat uns Eva verteidigt! Dafür ging Alain verloren, er folgte einer Sternschnuppe und übernachtete irgendwo in einem Büro. Im Wohlgroth spielten wir am 06.12.91 mit For Pets only. Da ich vorher noch den Samichlaus geben durfte, war klar was ich anhatte! Aus dem Sack zauberte ich Büchsenbiere, das Publikum war «gekauft»! Dieses total versiffte, stinkende, verdreckte, verschwitzte Samichlaus Gewand wurde am nächsten Tag dem Kostümverleih abgegeben… Die Verleiherin hatte so was von Mitleid mit den Armen Kindern, die von mir besucht wurden….
Beendet wurde das Jahr mit 2 Auftritten in der Züri Bar, am legendären Züri Bar- Kontiki-Fest. Am ersten Abend (21.12.91) spielten die Hillbilly Headhunters nach uns. Es gab zu viele «Vendetta! Vendetta!» rufe während ihres Konzertes, trotz langem Warten mit auftreten. Am zweiten Abend wollten sie lieber vor uns spielen. Der zweite Abend (22.12.91) ist nur lückenhaft in Erinnerung, es wurde immer später, bis wir als letzte Band auftraten konnten: Alain erschien mit einem blauen Auge, dass er von einem Taxifahrer bekam, da er auf dem Nachhauseweg am ersten Abend eine Bierflasche nach dem Taxi schmiss, weil der Fahrer Marino und Alain nicht mitnahm. Am Schluss kam noch der Kastenwagen von der Uraniawache und beide landeten in der Ausnüchterungszelle.   Meine Ansage: «Was ist besoffen und dekadent? Es ist Vendetta!, es ist Advent!». Chrigi war so was von im Öl, wir mussten ihn zu zweit auf die Bühne kippen, Gitarre anhängen, einstecken, 1-2-3 ab geht's. In der Mitte des Liedes merkte ich, dass Gitarre und Schlagzeug nicht das gleiche Lied wie Sänger und Bassist spielen. Eigentlich praktisch, so war's ein Lied mehr. Am anderen Morgen, ich wachte tatsächlich Zuhause auf, hatte ich am Hinterkopf diverse Beulen, unglaublich! Ich wusste nicht wieso und fragte rum. Tja, dass passiert, wenn man auf der Theke steht, Blau ist und nicht merkt, wie man den Kopf in den Deckenventilator rein hält… Es waren sehr ruhige Weinnächte in der Familie.
Im Jahr 1992 versuchten wir es mit Emil als zweiten Gitarristen, leider klappte dies nicht wirklich. Wir brachten es im ganzen Jahr auf 4 Konzerte…
Beim Kanzlei (01.04.92) spielten wir draussen im Dunkeln an einer Sauvage für die "Bäcki", es folgte die Ambiance Bar (13.06.92) zum ersten Mal, das Konzert war noch im Erdgeschoss in der alten Bar.  Zum vierten Mal die Züri Bar (27.09.92). Dieses Konzert wollten wir machen, damit wir auch einmal nicht soooo blau dort gespielt haben. Legendär an diesem Abend als der Franzl, unser grösster Fan (R.I.P.), der auch manchmal spontan mit seiner Trompete auf die Bühne kam um uns zu begleiten, zu spät erschien. Wir waren schon fertig. Er wurde so wütend, dass Alain ihm zur Beruhigung ein neues Vendetta!-Shirt schenkte. Die Wut schlug so in Freude um, dass er es gleich anzog, ein Feuerzeug hervornahm und sein eben noch getragenes mitten in der Züri-Bar abfackelte.
Am 20.10.92 war die Geburtstagsfeier 30 Jahre Bergi im Ü-Raum. Die Hillbilly Headhunters spielten ihr Warmup-Konzert bei uns und beim Essen hörten wir sie im Radio «DRS3 Live uf de Gass», mit Geburtstagswidmung! Das Spezielle war, als Vendetta! die Instrumente tauschte: Ich am Bass, Alain am Schlappzeug und Marino an der Mundharmonika. Nur Chrigi blieb an Gitarre, damit ein gewisses Niveau gehalten werden konnte.  Das Publikum hatte ein einmaliges Erlebnis, wir spielten Blues und der Marino war so was von gut! Wir hatten auch noch einen Unfall… Nach dem Essen steckte Chrigi seine Gitarre ein und flog 4 Meter durch den Raum! Die ungeerdete Heizplatte aus den 50er Jahren hat beim Kochen die Anlage geladen und Chrigi war der Blitzableiter! Wie mit Filzstift bemalen konnte man seine Adern sehen.. Hatten wir Glück!
Tournee Abschluss war am 7.11.92 in der Wohlgroth mit Run Chicken run und Vomitos aus Genf.  Auch unvergesslich, da die Wohlgroth aus allen Nähten platzte bis früh am Morgen.  
Mit 50% mehr Konzerte, ganze 6 Stk., spulten wir das 1993 runter. Start war am 28.05.93 in der Ambiance Bar. ich trat als Gary Glitter verkleidet auf, Heute ein No-Go!! Aber wir waren halt schon eine Show-Band. 04.09.93 Theater Stok, 09.10.93 Kleiderfabrik Bremgarten. Unsere Vorband waren die Sackratten aus Basel (Love Bugs). Ich war mir sicher, aus diesen Eingebildeten wird nie was.
30.10.93 Halloween Party im KUBA Baden mit Hillbilly Headhunters, 11.12.93 GZ Leimbach. Wieder kurz vor Weihnachten im Vorraum der Reithalle Bern, 23.12.93. Da war meine Ansage "wir sind Bern Ost aus Zürich". Es wurde uns angeboten im Wohnmobil auf dem Areal zu übernachten. Gut zeigten Sie uns dies vor dem Konzert, so blieb ich nüchtern und fuhr unser Zeug und dem Besoffenen Fahrer wieder nach Hause.
Eine grosse Ehre war das Festival am 21.01.94 im Milvus Hardturmstrasse 66, zusammen mit Hillbilly Headhunters, Fleisch und vor allem Coroner. Dazwischen lief noch der Kultsplatterfilm "Blutgeil". 25.03.94 Sohokeller:  Alain vergass den Sack mit T-Shirts, viele hatten Freude daran!
Die grosse Reise stand an den Ostern an, Chrgi Karrer von der Kulturgruppe im alten Palais X-Tra lud uns zu seinem Openair ein: 04.04.94 Su Petrosu bei Orosei, Sardinien. Wir spielten zusammen mit Park und es war das erste Mal vor ca. 800 Zuschauer. Nicht schlecht! Chrigi musste bei Park aushelfen und Vendetta! stand im Chor! Übernachtet wurde im Zelt neben der Bühne, es war saukalt.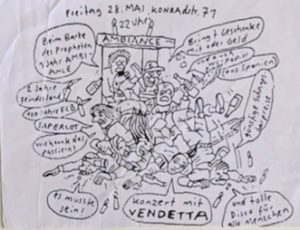 Es folgten 07.05.94 Palais X-Tra, natürlich das Alte an der Hardturmstrasse 127, 28.05.94 Ambiance Bar. 15.10.94 Sihlquai 55 in der Töffwerkstatt von Füge. 25.11.94 Ambiance Bar, ein Gedenk-Konzert «Just for Mix (R.I.P.)» und 23.12.94 Frontbar, Vorplatz, Reithalle Bern.
29.12.94 Ex-WM Bar, an der Gessnerallee mit Frox, holte ich meinen Neffen Sascha, 10 Jahre alt auf die Bühne und er musste einen Witz erzählen!
21.01.95 Soho Chäller, Konradstrasse 17 mit Pale Saphire, 10.03.95 Safari Bar, Zähringerstrasse 29. Und an Ostern, 17.04.95 wieder Su Pedrosu Orosei, Sardinien. Unsere Vendetta!-T-Shirts mit dem Klappmesser kam bei den Sarden so gut an, wir hatten am ersten Abend alle verkauft! Leider war die Stimmung in der Band nicht mehr so wie am Anfang. Chrigi und Marino machten einen Alk-Entzug, was ja in Sich das Beste ist, aber sie waren wie nicht mehr anwesend, man wich sich aus. Alain teilte mir auf der Rückfahrt mit, dass er Ende Jahr aussteigt. The End is near.
Wir gaben aber noch Konzerte: 14.07.95 Luv, Kreuzstrasse 24 Taufe beider Singles. Jeder mit einem Vendetta!-T-Shirt kam Gratis rein, am meisten freuten mich die selber gemachten! 22.07.95 war «Die lange Nacht der Züribands» in der Roten Fabrik, mit Fleisch, Peacocks, Boni Koller u.a. Ein Lobgesang auf Züri, mit vielen Bands, die es gar nicht gab oder sonst niemand kannte, wie dies halt auch auf dem Züri-Definitiv-Sampler der Fall ist. 02.09.95 Kleiderfabrik Bremgarten mit Suckerpunch aus Kanada und am nächsten Tag in der Grabenhalle in St. Gallen auch mit Suckerpunch. 12.10.95 in der Fussgängerunterführung Escherwyss, mit Hylsen. Diese Unterführung war 14 Tage lang besetzt mit diversen originellen Bars, die Russen-Bar, eine Wodka Bar mit Bretterverschlag und Dreck am Boden, ist mir bestens geblieben.
03.11.95 Palais X-Tra, Hardturmstrasse 127, mit Lö Schanal und Möped Lads, das grosse Vendetta!-Abschiedskonzert. Wir waren gut, es tat weh bei Allen.  Danach schlichen wir in die Ambiance Bar ab (04.11.95). Wir spielten das ganze Repertoire nochmals, bis die Luft raus war. Ich hatte keine Lust auf weitere Tränen, von der Bühne runter und nach Hause. Tschüss Vendetta!
Marino starb an Krebs im 2015 (R.I.P.), Chrigi ist immer wieder On / Off mit seiner Alkohol-abhängigkeit, Alain lies den Bass stehen und war Sänger bei Motherfuckin' beerdrinkin' Sheepeaters, Los Buffos,  the Pukes und den Seniles. Nach 14 Jahren stieg ich bei The Shower Curtains ein für 7 Jahre und 3 Jahre war ich der am Mikrophon bei Low4. Leider überlebte diese Band Corona nicht. Heute lebe ich zurückgezogen auf dem Lande und sammle Briefmarken.
25 Jahre später habe ich einen Stick erstellt, wo ALLES drauf ist von Vendetta! Ich werde immer noch auf Vendetta! angesprochen, viel mehr als auf meine anderen Bands. Wir waren für viele DIE Band, die man zwischen 25 und 35 Jahre in einem besetzten Haus, in der Wohlgroth, in einer Bar im Ausgang sehen wollte. Wir waren die erste Old-School Band von Zürich, nix mit Grunge oder Talent, auf Augenhöhe, Sexy und immer durstig!  Neulich teilte mir einer mit, er hätte uns als Vorband einer berühmten Band aus Amerika gesehen. Ich teilte ihm mit, dass stimme leider nicht. «Nein, Nein!! Ich bin mir ganz sicher!!», ich liess es dabei, da wurde mir etwas bewusst:  Wann ist eine Band legendär? Wenn Geschichten erzählt werden die gar nicht wahr sind.
© 2021 Bergi